Stuck on items to sell to raise funds for your NPO? We've got a list of things you can consider adding to your catalog of fundraising products.
Whether you are hosting a fundraising gala or constantly want to have merchandise available for sale to raise money, we've got something for you to pick from.
11 Popular Things To Sell When Fundraising
Here are some of the best things to sell in a fundraiser:
1. Coupon Books
Local businesses can be vital partners to the functioning of your non-profit. Collaborating with them and asking for various sponsorships can support you in raising money. This applies when trying to find things to sell for fundraising.
You can ask them for coupons, discount vouchers, or discounts for their products or services. Compile the coupons and discounts into coupon books and sell these to help you reach your fundraising goal.
2. Food
Another thing to sell for fundraising that will surely be a resounding success is food. Baked goods are often a hit for fundraising but you can also expand your menu to savory goods. You can host a mini-market with stalls for different treats, making it both a fun and tasty experience!
3. Art
If you have some creative people on your team or you've built some connections in the art industry, then you can think about selling artwork. Sell or auction off prints, paintings, photographs, digital works, and more using well-rounded, easy-to-navigate auction software.
Art can provide a substantial income as people are willing to spend generously on good artwork.
4. Spa Days
Everybody needs a little self-care from time to time but sometimes people don't always have the time to shop around for little spa goodies.
Put together self-care packages with candles, bath bombs, essential oils, shower steamers, scented lotions, creams, soaps, and more. A lot of people need a little time out and ready-made packages may be just the thing they want to spend their money on.
Alternatively, and if you have the time and resources to coordinate it, you can always organize an actual spa day. Plan some relaxing activities like foot rubs, face masks, etc., and sell tickets for the spa experience.
5. Hampers
Spa packages are just one kind of hamper that you can add to the list of things to sell for fundraising. When well put together, a hamper can seem like a fantastic bargain. Plus, you don't have to spend tons of money putting it together. You can make crafts, collect small bits and pieces, and make something great.
Options for hampers include sports kits, food packages, snack baskets, arts and crafts kits, etc. Get creative and think outside the box.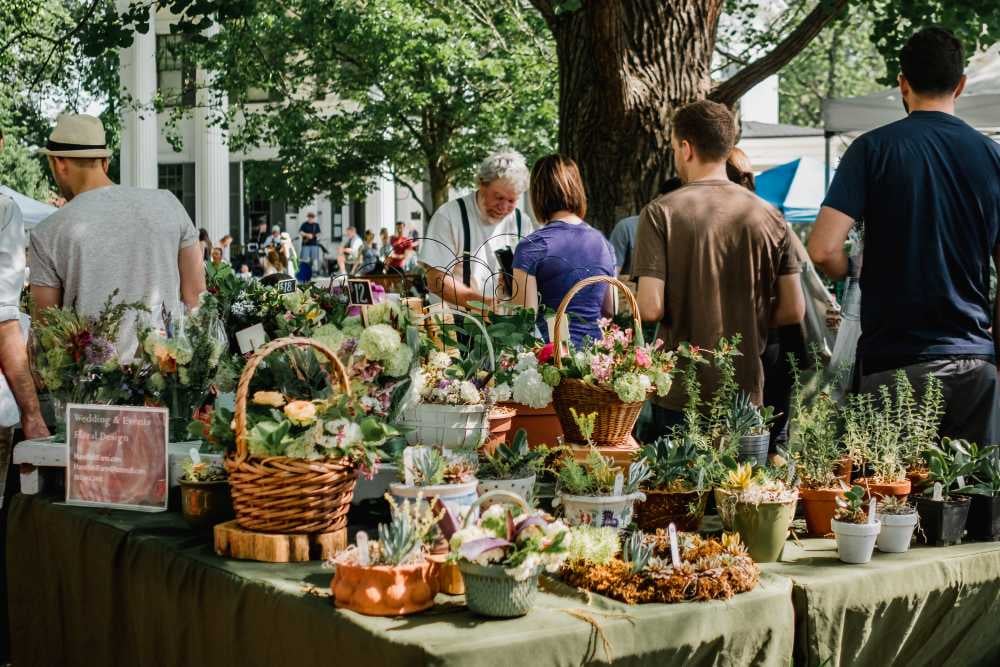 6. Flowers & Plants
There are many occasions where you can sell flowers and for fundraising like Valentine's Day, Mother's Day, and the like. People want to buy flowers on days like those. But, you don't really need a special occasion to do that. Any day is a good day to buy a bouquet and there are always people who want to buy them.
Pot plants including fruit, vegetable, herb, and decorative plants can also sell quite well. For buyers with green fingers, seeds may also be a good thing to sell to raise funds.
7. Services
There are many things to sell while fundraising that cater to people's daily needs. Think about all the things people may not have time to do or that they would alternatively hire somebody else for.
Cutting grass, doing laundry, cleaning, babysitting – these can be ways that your volunteers can help out your local community in exchange for donations.
8. Jewelry
Jewelry caters to a large buying audience since tons of people wear it. Think about it across ages, genders, and other demographics. Plus, there are many choices in the kind of jewelry you sell including rings, necklaces, earrings, bracelets, anklets, and more.
You can make the jewelry yourself or even host a volunteer crafts day to put items together.
9. Clothing
Clothing is another versatile thing to sell when fundraising. You can have items for various kinds of people, expanding your possible customer base. There are also many approaches to clothes sales that you can pick from. For one, you could get donations and run a thrift or second-hand store.
You can also make branded items tailored to your NPO like t-shirts, jumpers, hoodies, jackets, etc. with some cool custom designs.
10. Branded Tote Bags
Just like jewelry and clothing, tote bags can be a cute way for people to share their personality and make a statement. Not only can your chosen design bring people back to your cause, but they're also pretty popular and uber-stylish.
Make your own tote bags. Brand them with your company colors and slogans. Think about affordable ways to design the bags, too! While printing is an option, it can be a bit costly on a large or growing scale. However, if you know your way around a needle, thread, or sewing machine or you've got fabric paints or markers on hand, you and your volunteers can make some quirky and original pieces to sell.
11. Mementos & Keepsakes
The last thing to sell in a fundraiser doesn't really belong to a single category. It's more like a mix of different bits and bobs that you can bring together. Think along the lines of a yard sale. You can sell donated crafts, home decor items, decor pieces, quirky stationery things like fountain pens, and more.
Again, with this choice, you may also decide to brand some items. Design stickers with your company name and logo on them. Buyers can plaster these onto their cars, laptops, and other spaces and these will raise awareness, too. You can also sell branded stationery like pens and pencils, water bottles, lanyards, and calendars.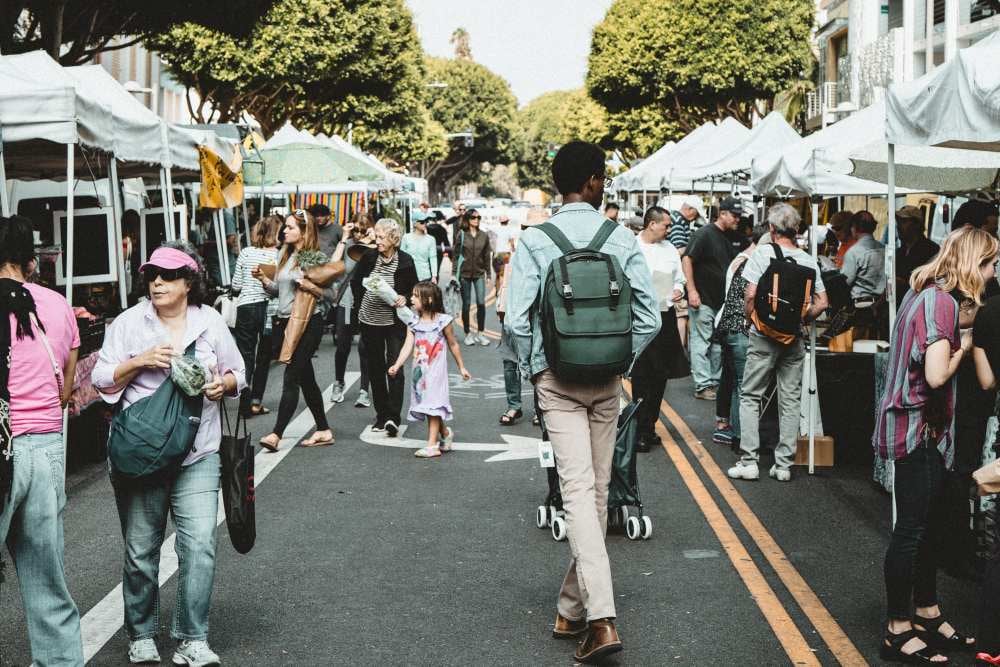 Conclusion
There are many things you can sell to raise funds. All you need to do is put yourself in your target audience's shoes and cater to their wants and needs, set up a website with your available goods, and you're ready to go.
For additional charity fundraising strategies to help you meet your goals, check out our top charity fundraiser ideas.